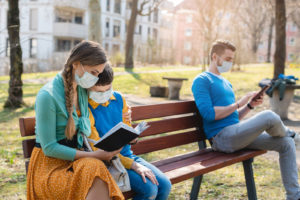 Facing new challenges is often part of our daily life. In the new age of the COVID19 pandemic, we are dealing with new challenges that we may have never imagined. Practicing social distancing, working or learning from home (or working as an essential employee), and changing the way we do business are all challenging our communities, our country and even the world.
While the financial and social challenges may be more obvious, we are also struggling with mental and physical challenges as well. Coping with the new "normal" and remaining resilient is difficult for many. It will require a great deal of patience, empathy, and understanding on everyone's part. We will all need to learn new coping skills and strategies to help us through these difficult times. Our goal as a community is to face these challenges and try to move forward in a healthy, productive way.
Overcoming these challenges will not be easy. Adapting to new policies, procedures, and social practices will seem easier for some people than others. While we see people struggle with these changes, it is very important for everyone to know that they are not alone. Ending the stigma of mental health is especially important at this time. We need, now more than ever, to show care and compassion to all who need it. We anticipate seeing more people who seem depressed, anxious, angry, and possibly struggling with some post-traumatic stress disorder (PTSD).
Our goal at the Chester Psychotherapy Group is to help those who have been affected by this event, and all life changing events, in a professional and compassionate way. If you are struggling, please do not feel like you need to face these challenges alone.
Stay safe and healthy while we go through this together.